When working stranded colourwork it is helpful to hold one color yarn in the left hand and the other color in the right hand. It's easy and rhythmic to catch floats this way once you get the hang of it. When a pattern has 4 or more stitches of one colour in a row, it is beneficial to catch a float along the way. This is to avoid long strands of the unused yarn loose at the back of the work, which can then cause tension problems or simply be annoying when putting the item on or off as your fingers may catch in the loose threads and pull.
Follow the photo tutorial below to learn how to catch your right and left handed held yarn and trap the float behind your work. It takes a few goes to get used to but quickly will become second nature as you work through your colourwork project. I like to catch a float every 3-6 stitches depending on the weight of the yarn – 3 or so with heavier yarn or every 5 or so with fingering weight yarn. This is a personal preference and entirely up to you. It is worth gaining confidence with catching your floats, they become easy with a little practice, even fun and you'll love the satisfaction and joy that stranded colourwork knitting provides.
Some other tips to keep in mind when working stranded colourwork are:
-Go up a needle size or two than you would use for regular stockinette, most knitters find their colourwork knitting is much tighter than their regular gauge. it is also helpful to stop and spread your stitches as you work, to be sure they have a nice, even tension.
-No tangles! Keep a ball of yarn on either side of you as you work.
-Blocking will always improve the end result and smooth everything out.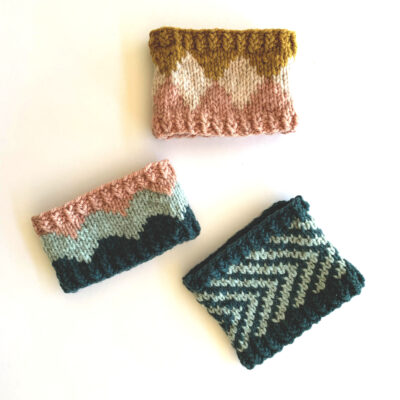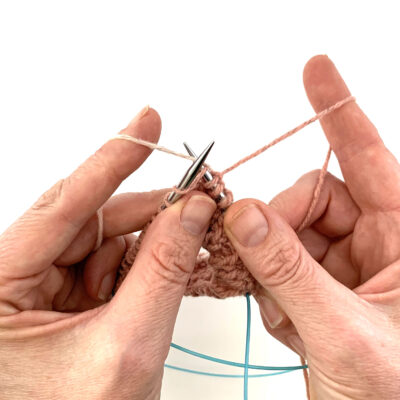 CATCHING A LEFT HELD FLOAT 1. Insert right needle into next st, wrap left-hand colour (light pink) over right needle from right to left.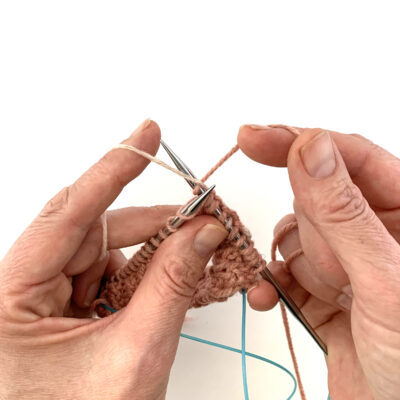 2. Wrap right-hand colour (darker pink) as if to knit.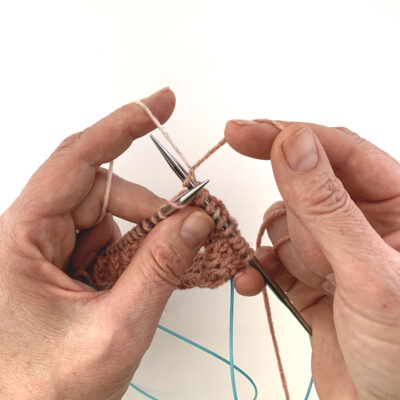 3. Bring the left-hand yarn back over the right needle and complete the stitch with the yarn trapped behind.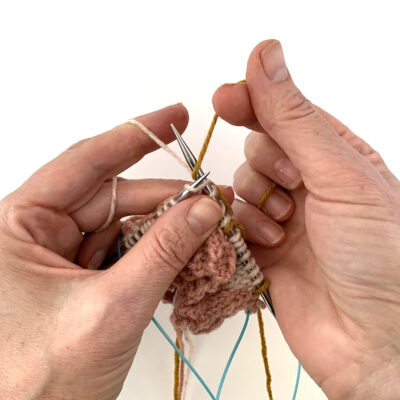 CATCHING A RIGHT HELD FLOAT 1. Insert right needle into stitch and wrap right-hand colour (brown) as if to knit, don't complete stitch.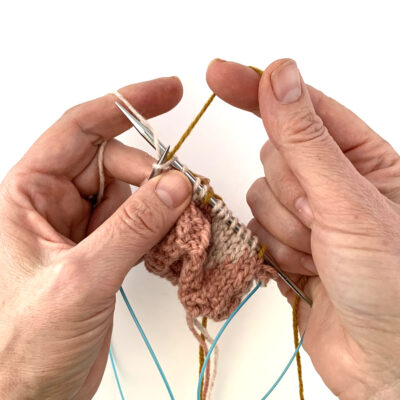 2. Wrap left-hand colour (light pink) as if to knit.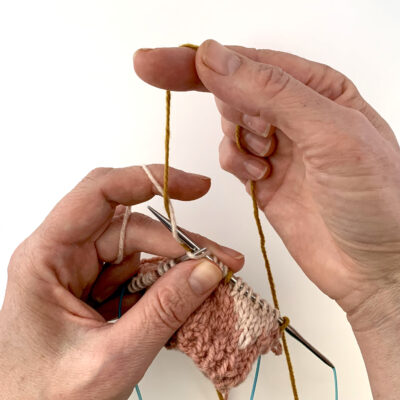 3. Bring right-hand yarn behind the right needle as you complete the stitch, with the right yarn trapped behind.