Posted on
Enjoy this fun, free pattern and tutorial from Ambah…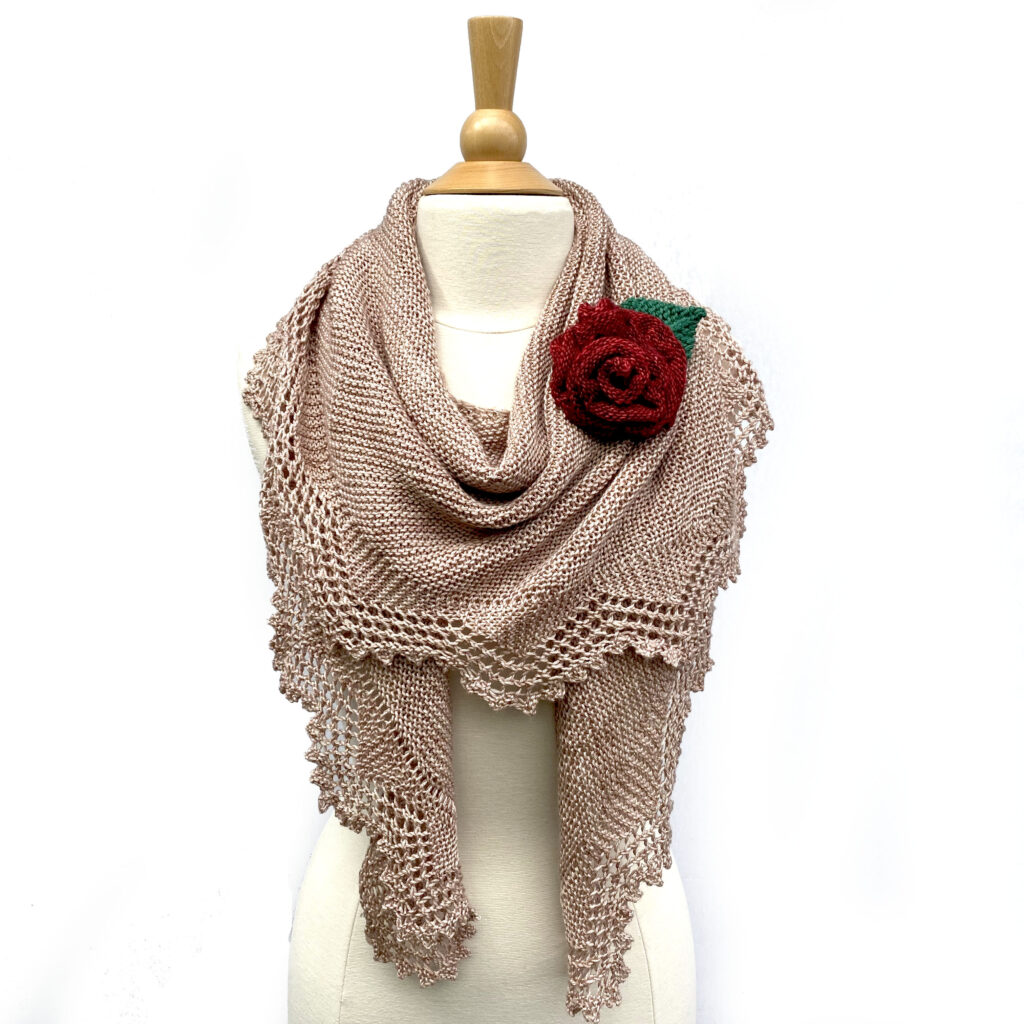 I've always been a big fan of Roses – faux and real. The scent, the romance, the beauty. I have a collection of fake roses where I have glued metal clips on, these I wear in my hair, as a brooch, and also use to make garlands for decorating with – I especially love decorating my Solstice/Christmas tree with these. Last year my knit group had a handmade ornament gift exchange for our December festivities and I decided to create a knitted rose for my contribution to the Kris Kringle. I have been meaning to make another for myself and write up the pattern to share, and now the day has come.
The instructions below make a good size rose, approximately 4.5″/11.5cm across (not including the leaf). Use smaller/larger needles and lighter/heavier yarn to make yourself a smaller/larger version, note yardage will vary across the different weights.
Note: Keep your yarn over's loose as the project can tighten up when purling these through the back of the loop.
YARDAGE: ROSE: Fingering weight, 70 yd/64 m LEAF: DK weight, 8.5 yd/7.8 m
NEEDLES: ROSE: US5/3.5 mm LEAF: US 6/4 mm
NOTIONS: Clip, locking stitch marker, tapestry needle, sewing needle and thread.
ABBREVIATIONS
cdd: central double decrease. Slip 2 stitches together knitwise, knit one stitch, pass the slipped stitches over.
k: knit
k2tog: knit 2 stitches together
kfb: knit into the front and back of stitch
p: purl
ssk: slip, slip, knit. Slip the first stitch as if to knit, slip the second stitch as if to knit, then slide the left needle into the front part of both stitches and knit them together.
st/s: stitch/es
tbl: through the back loop
yo: yarn over
( ): stitch pattern repeat
ROSE Cast on 20 sts and purl one row.
Row 1 (Right Side): K1, (yo, k1) rep to end. (+19 sts) 39 sts
Row 2 (Wrong Side): P1, (p1 tbl, p1) rep to end.
Rows 3 – 8: Repeat Rows 1 – 2 three more times; 77(153, 305) sts
Row 9: K2, (ssk, k16, k2tog) rep to last 3 sts, k3. (- 30 sts) 275 sts
Row 10: P.
Row 11: K2, (ssk, k14, k2tog) rep to last 3 sts, k3. (- 30 sts) 245 sts
Row 12: P.
Bind Off.
LEAF Cast on 3 sts and k one row.
Row 1 (right side): Kfb, k1, kfb. (+ 2 sts) 5 sts
Row 2 (wrong side): K2, p1, k2.
Row 3: K1, (kfb, k1) twice. (+ 2 sts) 7 sts
Row 4: K3, p1, place removable marker on this stitch, k3.
Rows 5, 7, 9, 11, 13: K1, kfb, k to last 2 sts, kfb, k1. (+ 2 sts)
Rows 6, 8, 10, 12, 14: K to marked st, p1, remove marker and pace on this st, k to end.
Rows 15, 17, 19, 21, 23, 25: K to 1 st before marked st, cdd, remove marker and place on this st, k to end. (- 2 sts)
Rows 16, 18, 20, 22, 24, 26: K to marked st, p1, k to end.
Row 27: K1, cdd, k1. (- 2 sts)
Row 28: k1, p1, k1.
Row 29: Cdd, tie off last stitch.
FINISHING Block Rose and leaf. Weave in ends of leaf and the BO tail of the Rose. See video below for construction.